Invited to Interview!
Now What?
Congratulations! You've been invited to interview at your dream business school. You've probably heard everyone telling you to prepare for the upcoming interview, but you aren't too sure where to start.
Luckily, ApplicantLab has developed a brand-new service just for you called the MBA InterviewLab. You'll learn how to prepare for your interview via interactive, online exercises and videos that guide you every step of the way. It includes much of the world-class admissions advice as our original service that is endorsed by the Harvard Business School student newspaper, for a fraction of the cost.  
For the low  cost of $79, access 24-7 guidance from a Harvard MBA with 15+ years of experience in MBA admissions. The MBA InterviewLab will cover every aspect of your interview prep from preparing for school-specific interview questions to nailing webcam interviews, to even determining what to wear.
What are you waiting for? Step into the Lab with a free trial today.
What's included in the MBA InterviewLab?
The MBA InterviewLab is the perfect tool to ensure you shine at your admissions interview. Whether you have only a day to prepare or several weeks, the MBA InterviewLab has you covered with 24-7 MBA interview advice and a customized approach.
In the MBA InterviewLab, you'll learn how to set the core strategy for your "story" and how to approach each interview question. You'll also enjoy access to 10+ hours of video advice that will walk you through the "do's" and "don'ts" for every top MBA interview question.
Start your InterviewLab trial now!
MBA interviewers are only human, and like all humans, they can form initial impressions of your candidacy within the first few seconds of reviewing your resume just seconds before the interview starts.
The "Strengths & Weaknesses" module is designed to show you just what your interviewer may think when first reading over your resume. In less than five minutes, you'll get an initial "diagnosis report" that will give you a quick snapshot of where you stand.
You will use this knowledge to pro-actively address any perceived weaknesses (such as your age or quantitative ability) during the interview. This module is usually exclusive to  ApplicantLab users who purchase the full-access subscription, however, it is offered to MBA InterviewLab users for a limited time. Access your customized diagnosis report now!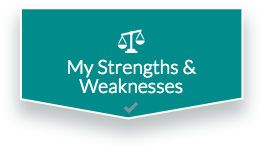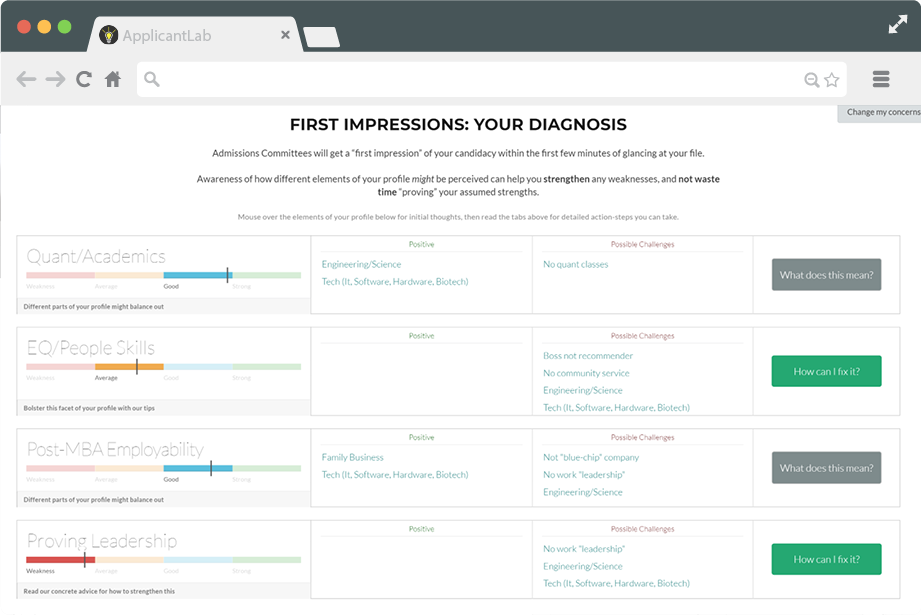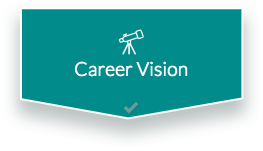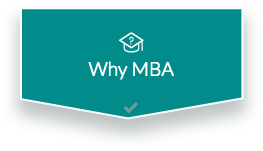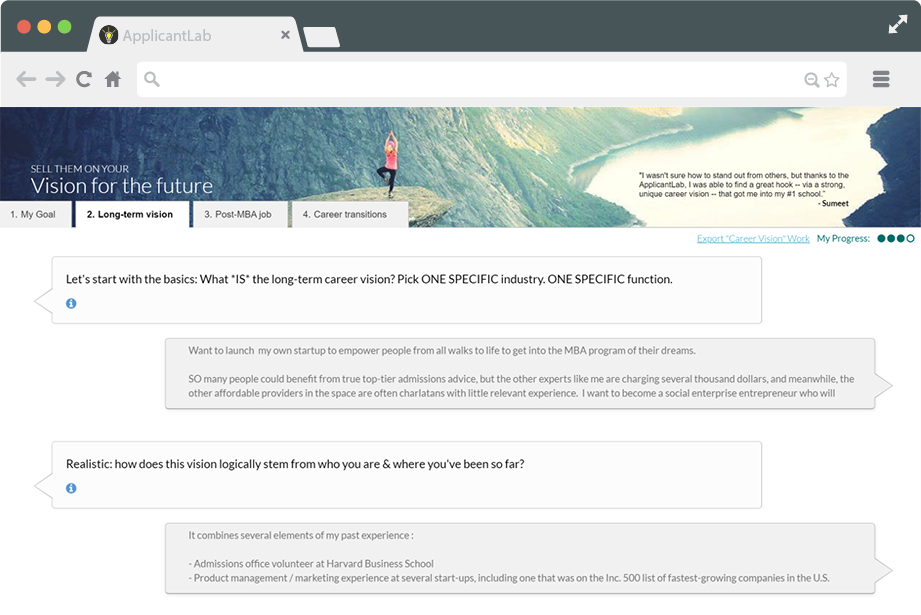 What is the number one reason otherwise competitive candidates get rejected or don't receive scholarship money? A weak, vague, or boring career vision and/or "why MBA" rationale.
Luckily, with the MBA InterviewLab you won't be that guy. The "Career Vision" and "Why MBA?" modules offer interactive, online exercises and videos that work hand-in-hand to help you create a strong and interesting rationale that you will use across every interview. You may discover a little something about yourself along the way.
Already submitted your application with a slightly different story? No problem! There is still time to refine your Career Vision and Why MBA argument so that you shine in your interview.
Find Your Strongest Stories
Stories are the core elements of any successful interview. Admissions committees are looking for candidates who possess certain brand (personality) traits and stories are the "evidence" you're going to provide that you are what they are searching for.

MBA InterviewLab's Brainstorming and Branding modules will work in tandem to help you dig deep and discover your most powerful stories. These two modules will also give you the perfect framework to analyze your stories so that later you can best match them to each potential interview question you might encounter.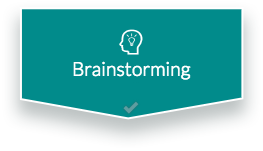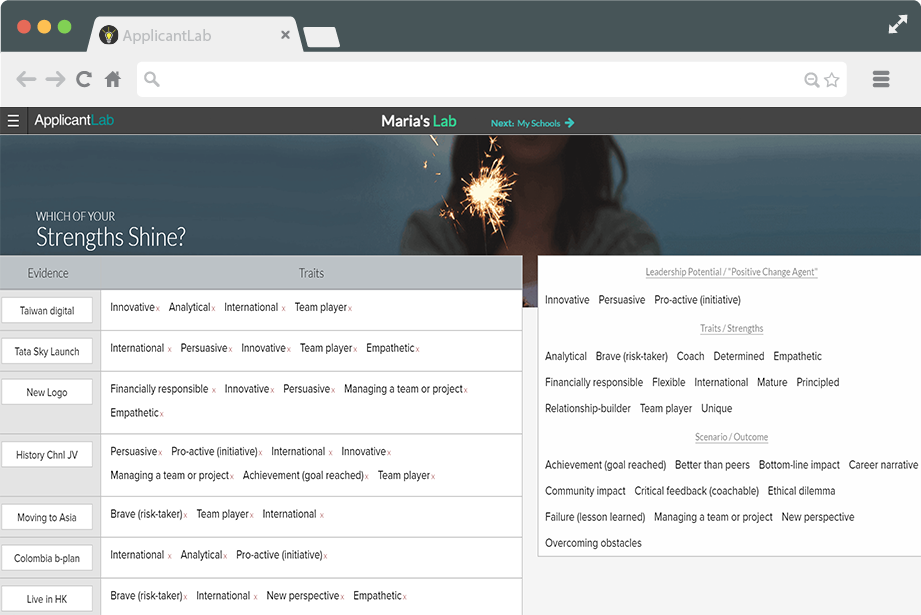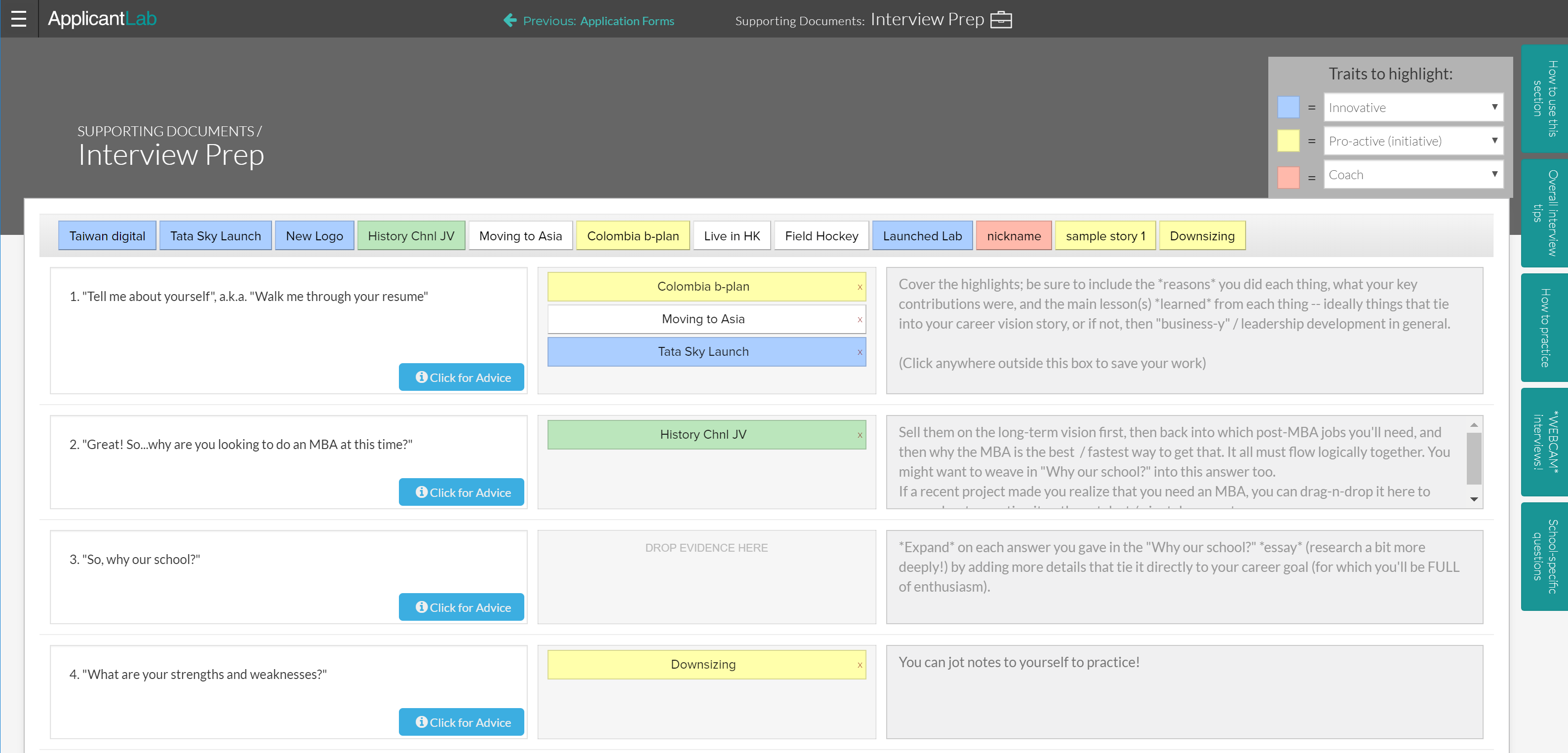 The INTERVIEW PREP MODULE!
(this is the bulk of where you'll spend your time!)
The Interview Prep module is so comprehensive, many ApplicantLab users have told me that they did NOT need to purchase a single mock interview after going through it!
Through interactive questions and engaging educational video lessons, the Interview Module will teach you:
How to best prepare for your admissions interview, whether it takes place in-person, on Skype, or in a small group (like the infamous Wharton Team-Based Discussion)

How to approach each interview question (even the tricky questions that make you go: "Huh?")

How to develop strategies for different interviewers, including Adcoms, Alumni, and Current MBA Students

What to mention during your interview — and which details should be left OUT

Samples of "good" and "bad" answers for the top 15 most consistently asked MBA Interview questions
BONUS: If you are still in the application stage for the schools like University of Washington Foster, Emory Goizueta, or Vanderbilt Owen, that require you to complete an online pre-recorded video interview prior to submitting your application, MBA InterviewLab has you covered with interview advice that is perfectly transferable to all pre-recorded and online interviews.
Start your free trial now!
Does the MBA InterviewLab Work?
"The interview prep section of the Lab is by far my favorite… Maria has uploaded video advice for almost all the possible questions that someone could get in an interview…
I remember one of my interviewers specifically told me that my answer for the question 'walk me through your resume' was one of the best he had heard during this year's application season. The entire credit for this goes to Maria."
– HEC Paris Admit '18
(Business School Ranked #1 by The Economist)
Should you Want Additional Help…
ApplicantLab Mock Interviews
Upgrade your MBA InterviewLab experience by booking a mock interview service with professionals that combined have over 20+ years of MBA Admissions experience.
Access a full list of ApplicantLab's mock interview services and prices here.

Note that most people say that, after going through the "Interview Prep" module in the Lab, they feel SO prepared that they no longer need a mock interview!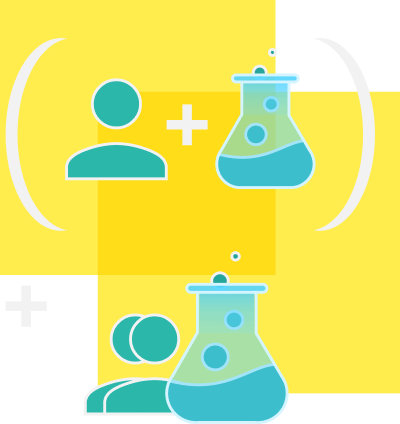 Don't Overpay for World-Class Admissions Advice
Most admissions consultants of Maria's caliber (Harvard Business School graduate; 15 years of experience; AIGAC Board Member) charge $300+ for just ONE HOUR of their time. The ApplicantLab interview platform gives you access to ALL of Maria's interviewing expertise, start-to-finish, for far less than what you'd pay for just a mere TEN MINUTES of others' time.
Maria not only has over 15 years of experience conducting mock MBA interviews, but she has been an alumni admissions interviewer for Princeton University for almost 20 years, so she REALLY knows what a great interview takes!
She is on a mission to prove to you that you don't HAVE to waste thousands on admissions consulting. Try it for yourself and see! We have a generous refund policy, so if you try the module and don't think it's worth what you'd get from ten minutes of other top consultants' time, let us know and get your money back. You have NOTHING to LOSE and an ACCEPTANCE to your DREAM SCHOOL to gain!
On-Demand MBA Admissions Interview Help
Ace your MBA interview for
Only $79
There is simply no other way to get access to THIS level of world-class expertise for THIS price. This is advice other admissions consultants want to charge you hundreds, if not thousands, of dollars for. 
1 year access
Access to strategy modules for:
– Strengths & weaknesses; career vision; "why MBA?" modules
Interview prep module:

Video lessons on the most common interview questions

Overview for how to approach the question
Good and bad examples to teach you how to polish your response

Lists of the most popular questions for the top ten schools

Everything you need to shine in your interview!
start free trial
What is the MBA InterviewLab, anyway? Who's a good fit to be a client? Is additional help available?
Read Our FAQ
What are real users saying about the Lab? Are any of them like me? What has their experience been?
Our Success Stories