ApplicantLab uses interactive exercises and extensive, tailored videos to mimic the same advice process provided by pricey 1-on-1 consultants.
The early exercises establish the strong foundation from which all of your application materials will be built. You'll then move through various steps to write essays / resume, work with recommenders, and ace the interview. AdCom members are only human, and like all humans, they can form initial impressions of your candidacy within the first few minutes of reviewing your application.
The "Strengths & Weaknesses" module shows you what Admissions Committees may think when first encountering your profile.
You'll get an initial "diagnosis report" that gives a quick snapshot of where you stand, and detailed advice articles explain how to balance out potential weaknesses.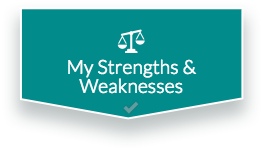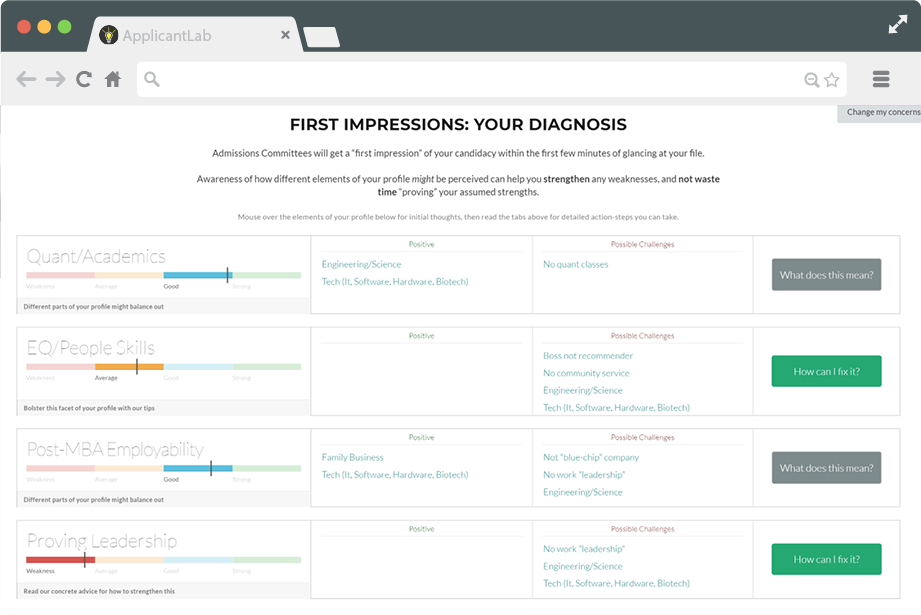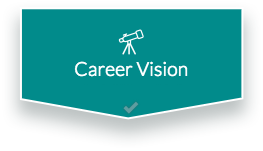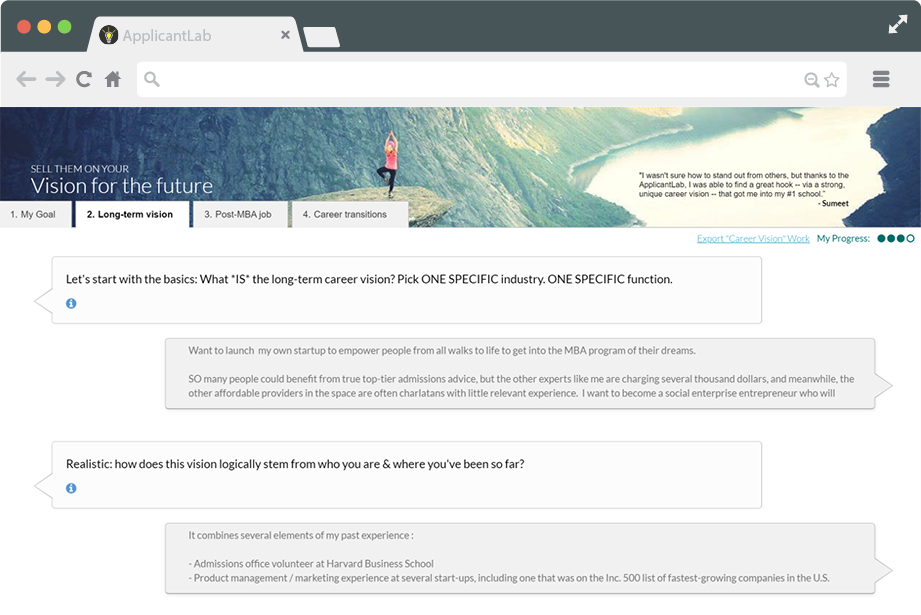 The #1 reason otherwise competitive candidates get rejected is due to a career vision / "why this degree?" rationale that is weak, vague, or bores the AdCom into a coma.
The "Career Vision" and "Why MBA?" modules work hand-in hand to help you create a strong rationale that you will use across every application.
Find Your Strongest Stories
Stories are the core elements of any successful application. Admissions committees are looking for candidates who possess certain brand (personality) traits, and stories are the "evidence" you're going to provide as proof that you've got the goods.
These two Lab modules will help you dig deeply, uncovering your most powerful stories and giving you a framework to analyze / judge them, so that at a later step, you can best match each story to each school you're applying to.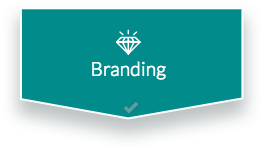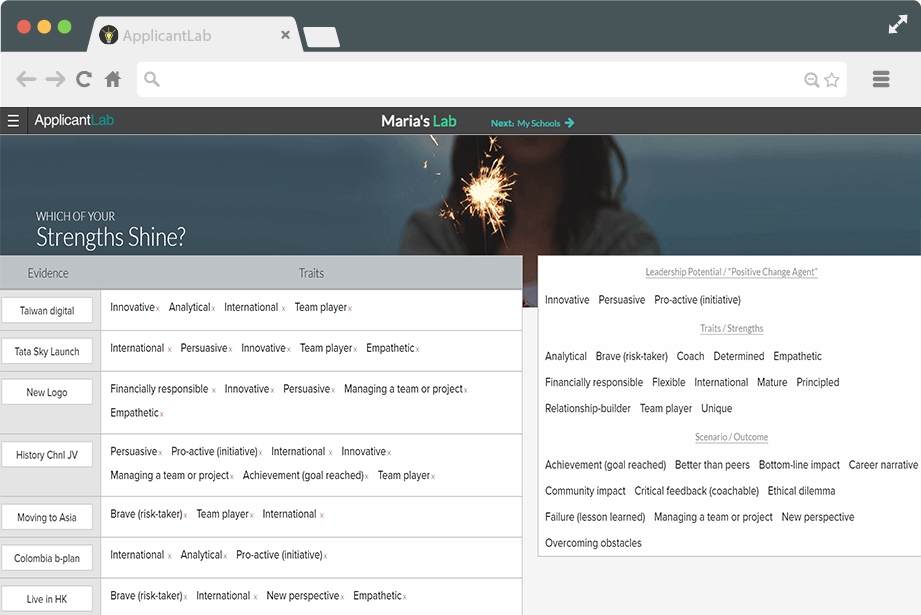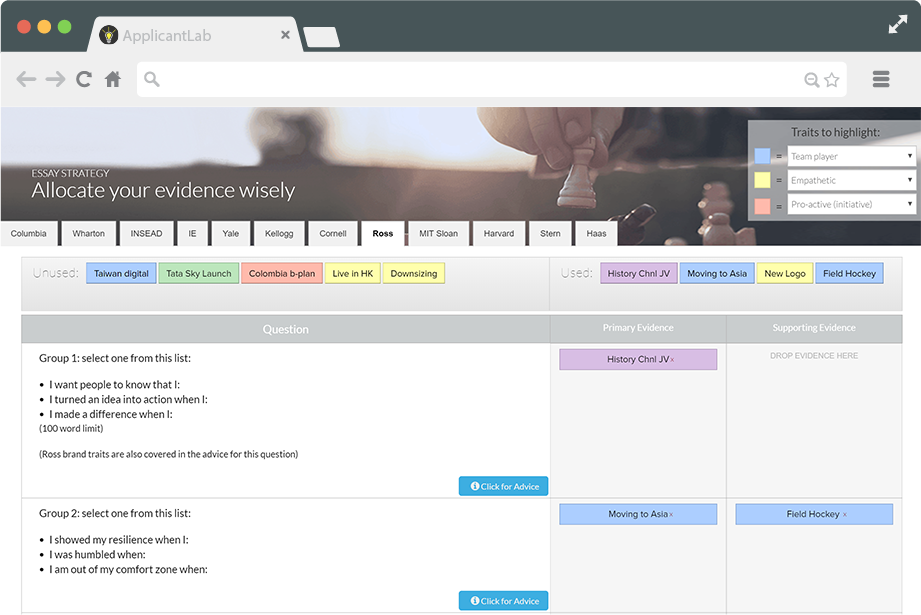 School-Specific Essay Guidance
Fun fact: different schools are looking for different things. A story that might enthrall one school's admissions committee might completely miss the mark for another school.
The "Mapping" module, a customer favorite, teaches you how to best allocate your stories, and how to best write about them, to each of the schools you're applying to.
It will teach you:
Brand traits different schools look for
Cultural differences between programs that will impact your essays
How to approach each essay, even the video & "creative" essays, and even the questions that make you go: "Huh?"
What to mention — and which details should be left OUT
The "Pre-writing" module breaks down each essay for each school into easily-manageable "mini-questions". By giving you a more "bite-sized" way to start, inertia / procrastination fade away – plus, you'll be sure you're answering the question appropriately. As an added bonus, you can use this module as a final check-list before hitting "submit"!
The "Rough Draft" and "Final Draft" modules give you tools and tips to finalize your essays, while still keeping them in your authentic voice. Overly-polished essays are a red flag, especially for applicants whose native language is not English. Remember, they will see your Verbal test scores, TOEFL scores, etc.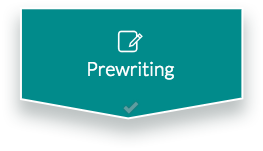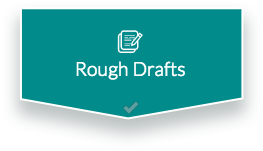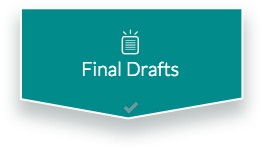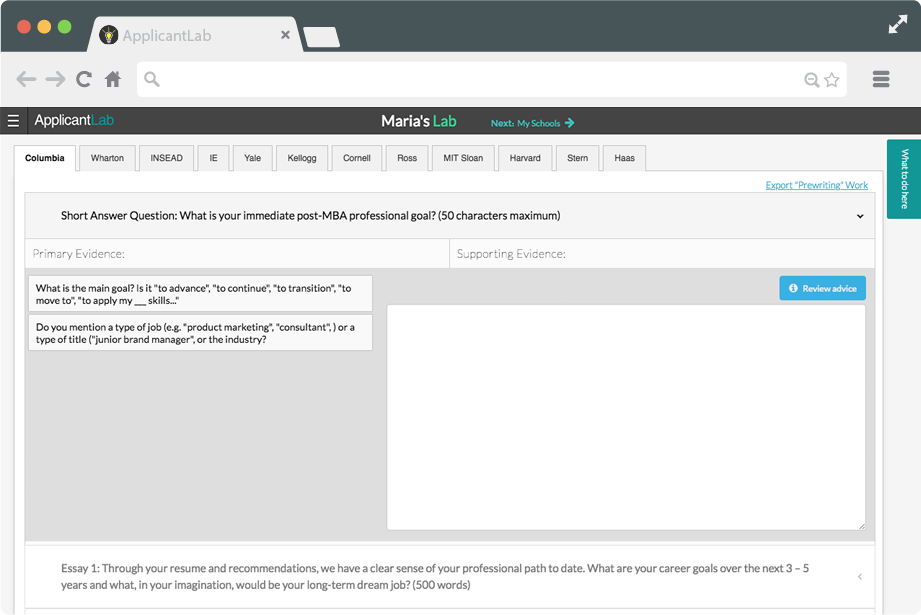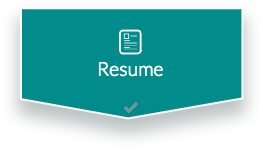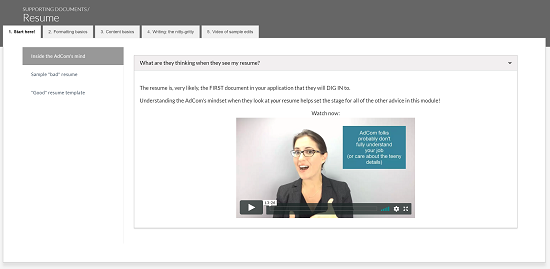 Yes, the resume is actually more important than the essays (!!!), and no, you can't simply recycle the same resume / CV you used to get your last job. This module walks you through, step-by-step, key "do's" and "don'ts".
The many ways you can use ApplicantLab to maximize your acceptance potential.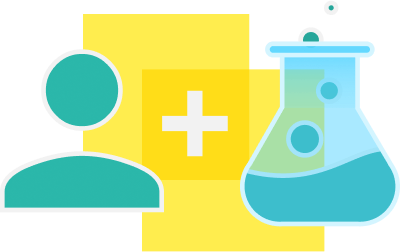 Everything you need to get accepted. For most people, this is all they need!
Should you Want Additional Help…
ApplicantLab Consultants & Editors
ApplicantLab consultants and editors are highly qualified professionals that are eager to assist you. Our editing partner charges Lab users less than usual, since essays they submit (after going through ApplicantLab) are in far stronger shape than they are otherwise!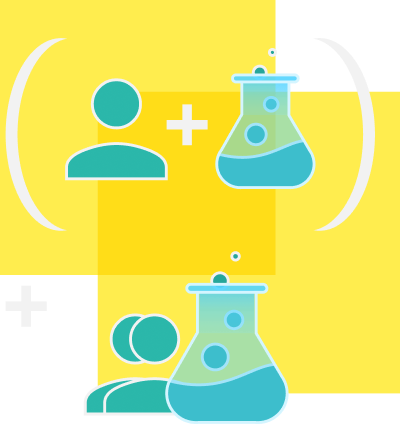 ApplicantLab + Another top-tier admissions consultant of your choice
Estimated cost to get through 5 school applications:
$$+

Option 1
Purchase a few hours of their time, instead of a "comprehensive package"
Estimated cost to get through 5 school applications:
$$$+

Option 2
Purchase a one-school package from them and use the Lab for the other schools

Option 3
Purchase a multi-school package from them and use the Lab as "insurance" to sanity-check the advice you're getting from them (since consultant quality can vary dramatically)
Don't Overpay for World-Class Admissions Advice
Most admissions consultants of Maria's caliber (Harvard Business School graduate; 15 years of experience; AIGAC Board Member) charge $300+ for just ONE HOUR of their time. The ApplicantLab platform gives you access to ALL of Maria's expertise, start-to-finish, for less than what you'd pay for just one hour.
On-Demand Admissions Guidance Tool
There is simply no other way to get access to this level of expertise for this price.
1 year access
Access to all modules for:
– strategy
– essays
– resume
– recommendation
– interview
Everything you need to build a winning application
Apply to as many schools as you'd like
– In-depth tailored content for each school. All for one price
start free trial
What is ApplicantLab, anyway? Who's a good fit to be a client? Is additional help available?
Read Our FAQ
What are real users saying about the Lab? Are any of them like me? What has their experience been?
Our Success Stories