(Welcome! If you haven't already seen my post on reasons I think you should go ahead and apply in round 3 / round 4 ("R3" / "R4") in 2020, here it is: Should I apply to MBA programs in Round 3 ("R3") due to Coronavirus / COVID-19?)
Summary / TL;DR: Depending on how things go in the next few months, we will either have "business as usual" with things back to normal, in which case the current R3 applicants will have wasted their time (but…no big deal in the grand scheme of things), OR we could have virtually NO international students on campus next year…the most DRAMATIC scenario here would be that schools need to fill 30%+ of their class that would have otherwise been taken up by international students. This would be devastating news for international candidates who had been planning to apply this upcoming (2020 – 2021) year, but would be amazingly good luck for domestic candidates who may currently be languishing on the wait list. Of course, news about the virus is changing every day; these are my thoughts as of April 6, 2020.
Below, I tried to map out the different high-level ways the next 6 months or so might look in the MBA admissions world, given coronavirus / COVID-19.
In sum, there are a few key pivot points, namely:
Will some / all students be allowed on campus?
Will admitted students still want to attend, if the first semester (or beyond) will be done via "virtual" / online classes?

Note: in the event that classes go "virtual", but that most admits say to themselves, "You know what? This isn't perfect, but it's better than nothing and I'll enroll anyway", then in essence the coronavirus will not have had any material impact (as can be seen in the lower left-hand corner of the diagram below)
Here's the full diagram; a more detailed explanation is below: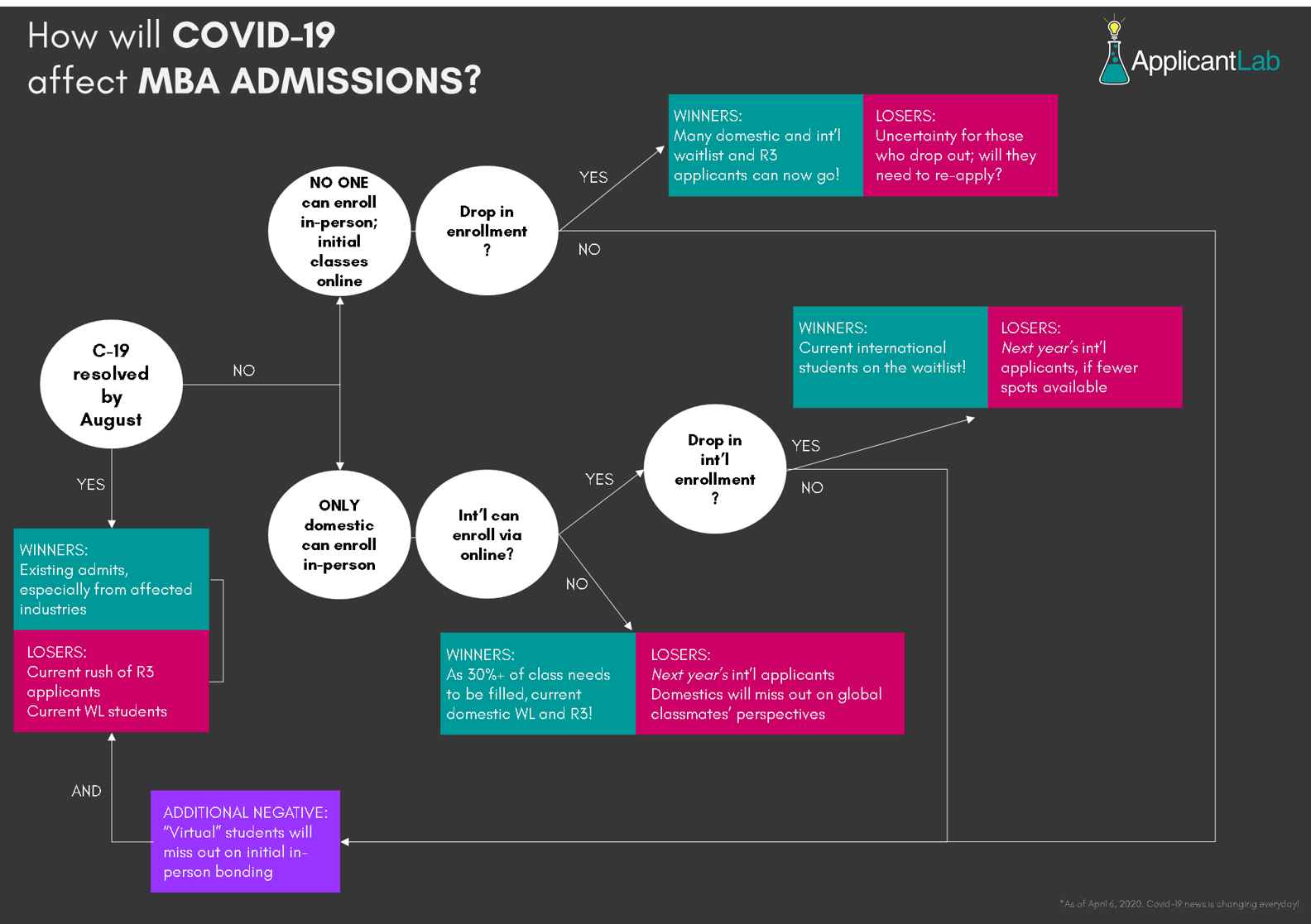 More detailed explanation of the above, from left to right:
"C-19 resolved by August"
What is meant by this scenario?
By this, I mean: "Are things back to normal by August, in that all students who have been accepted are able to attend classes on campus"?
For this scenario to occur, two main things need to happen:
Campuses need to "re-open" insofar as in-person classes will be available
International students will need to be able to get visas, financing, and other logistics squared away in order to show up in time
What will the fall-out be? Who will win / lose?
Right now, everyone and their grandmother's hair-dresser's tiger-training boyfriend is desperately trying to throw together an application for Round 3. Should the coronavirus situation be "resolved" in time, then those herculean efforts might end up being for naught, since there won't be many spaces left for the taking.
Also, people currently on the waitlist will lose, as the spots they are currently hoping will open up…might not materialize.
By when will we know if this will happen?
My understanding is that student visas can often be processed within 4 – 6 weeks, under ideal circumstances. Let's assume that this is still true (even though in real life, should U.S. embassies and consulates open up in, say, July, presumably there will be an insane flood of visa applications and so let's be honest — delays will probably happen).
So, optimistically: we'd need to know about 6 weeks prior to on-campus activities starting, which as of now would be early July for most programs, early August for Duke, since, as of the time of this writing, Fuqua has announced that they will be starting classes one month later in hopes that they will be able to accommodate more students then. I expect other schools to follow suit.
"NO ONE can enroll in person; initial MBA classes all online"
What is meant by this scenario?
This is if BOTH domestic AND international students are NOT allowed to come to the campus; that is, if "social distancing" rules are still in effect, and if there does not appear to be a speedy resolution that will let them come to campus soon after the start of the semester.
In this case, all classes would be online for, let's say, at least one semester — perhaps two. The reason I estimate this is that even if a vaccine for coronavirus is developed tomorrow (early April 2020), it will still take about a year to be tested, and then, to be manufactured at scale.
In this case, we have two additional possible sub-scenarios:
Enrollment
WILL

drop, if accepted applicants decide to turn down their spots

OR
Enrollment WILL
NOT

drop, if accepted students don't care about classes being online

A big part of the "MBA experience" (put bluntly: the reason you might be going into a literal mountain of debt to get an MBA) is the in-person bonding / friendships / networking opportunities. It is possible, but difficult, to form the same connections with people online than it is in person — that is, for people you do not yet know.

SOME people will think: "WTF? Why am I going to spend all this money if I might miss out on weeks, months, or more of valuable in-person bonding time! FORGET IT!!! I'm going to withdraw my candidacy and re-apply next year instead, so that I can get that 'Full MBA Experience'."

OTHER people will think: "Ok, so this isn't ideal…but…WHO CARES? A top MBA is a top MBA, and we'll have plenty of time later on to figure out SOME way to make up for lost time, and we'll be able to get to know each other / bond after all."
What will the fall-out be? Who will win / lose?
For the people who say: "I do NOT want to enroll if the classes will be online!", the winners will be the current R3 applicants and those on the waitlist, since now MBA admissions committees will be scrambling to fill spots that, in any other year, would have been filled. This will be especially true for those who have authorization to live / study in the US (e.g. citizens, legal residents) since they don't have the visa hurdles international applicants will have.
However, if most people say, "Eh, sure, it's not great, but I'm not giving up the opportunity to enroll in an MBA program!" then the losers will be the people who scrambled to throw together a R3 application, or those on the current waitlist. That is, even if the format of class delivery would be different under this scenario, from the perspective of: "Will round 3 or applicants on the wait-list have a better chance than usual?", then the answer is no — it will be the same as in the "Covid-19 resolved by August" scenario.
"ONLY domestic admits can enroll in person; international applicants can / can not join via online courses (temporarily)"
What is meant by this scenario?
If the "social distancing" measures are loosened up in the U.S. by, say, late July, then domestic (i.e. students with citizenship or legal residency) MAY be able to show up to campus and start taking classes in-person…even if their international classmates are still stuck in a travel ban / visa ban limbo.
In this case, schools could either:
Let international students join the classroom via online classes, in the hopes that the travel / visa situation will resolve itself sooner rather than later
Decide that this creates an unfair situation for international students, and simply have their classes this year be filled with only domestic students
If international students CAN join the domestic students via online classes (temporarily), some of them may be ok with that (in which case, things will be "business as usual" overall), but SOME international students may choose to defer or drop out and re-apply later.
What will the fall-out be? Who will win / lose?
Should some international students decide that attending classes online is not satisfactory and thus do not enroll, then the winners will be other international candidates on the waitlist who WOULD be willing to take those spots. In this scenario, the domestic waitlist may not see much action, since presumably it would be "business as usual" for those admits who can go to campus, but if the schools grant deferrals or if international students decide that they want "The Full In-Person Experience", then less-picky international wait-listers are in luck.
Now, what about a school like Harvard Business School, that has said that any international students accepted this year, who is unable to enroll on campus in-person, will simply be deferred until the following year? As much as I love HBS and I understand why they are offering this, this is really a true bummer of a situation: first of all, it will mean that VERY FEW international applicants will be accepted during the 2020 – 2021 admissions cycle, because the international student spots will have already been accounted for. So, any international student waiting until this upcoming year to apply…that may be an exercise in futility, and as such, THEY lose out.
The other losers in that scenario are the domestic HBS students, who will miss out on the valuable professional experiences, networking, and friendships with people around the world.
Ok! I think I covered the major "buckets" of scenarios here. Of course, I am making sweeping generalizations, but personally I have found it useful to try to organize the scattered scenarios playing out in my head into these major "What if?" categories.
What do you think? Did I miss anything? What did I get right? What did I get wrong? Let me know! Email [email protected] — AND STAY SAFE, PLEASE!